"It won't bounce!"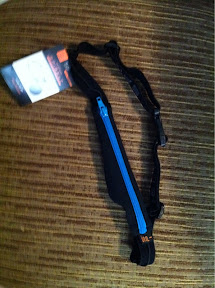 I contacted SPIbelt to see if I could do a review of one of their belts. Debbie Pagell responded to my e-mails, and she was soooo WONDERFUL to work with! Not only did she say yes to allowing me to do a review, but she had me go onto their
website
and choose which belt I wanted. Down to the last detail of color!
I chose the
Water Resistant Energy belt in turquoise.
After running a half marathon in the rain a week prior to ordering this belt, I felt like I wanted to have a water resistant belt to try out!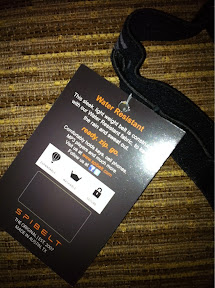 Here is SPIbelts description of this belt:
Light Weight and lean, yet protective. Using our same sweat proof material as our specialty armband, this belt makes a great companion for you heavy sweat types, or those who like to play hard!
The loops for the energy gels. This was important to me. I currently have a belt that did not have the loops on the outside for the gels, and I felt like having the gels and everything else in the pocket was just too bulky! Problem alleviated!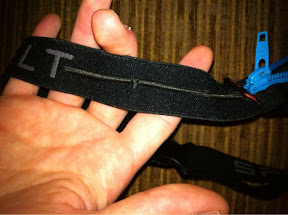 You can barely see the belt!
Close up of the gels in the loops.
Nice and small
I typically turn the belt so that the pocket is in the back, and then my shirt will cover it. You don't even feel it on you!
Stretching it out...even a larger person can wear one!
I LOVED this SPIbelt! I'm definitely planning to wear it again! I actually took the belt and ran it under water, and it did it's job! No water got into the inside of the pocket! Like I mentioned, I typically turn my belt around so that the pocket is in the back. Having the gel loops on the side made it so much easier for me not only to grab while I was running, but also to access the other items in the pocket.
I wear the belt pretty low on my hips. I don't like it on my waist. Other belts that I've tried out have somehow made their way back up to my waist...but the SPIbelt stayed put! It didn't move! Stayed on my hips the entire time.
Thank you SPIbelt for being soooo awesome!
Now, onto some fun! YOU can have your very own SPIbelt! The people at SPIbelt are very generous and are allowing you to have the same experience that I had! You will work with Deb, to pick out the SPIbelt that is right for you!
Mandatory:
You MUST be a follower of my blog.
Optional:
'Like' Running What? on facebook. There's a super easy button on the sidebar!
'Like' SPIbelt on facebook and leave a comment on their page telling them that Kristen @Running What? sent you! Let me know you did it
Tweet about the giveaway
Facebook the giveaway
Blog about the giveaway
Write an actual post about the giveaway...send me the link.
That's up to 7 entries! I'll use random.org to choose a winner on June 2.
* SPIbelt did not pay me in any way to write this review. They solely sent me the belt to test out.