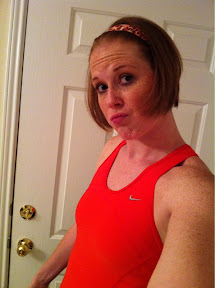 Me being silly before the run.
w00t! I did it! I hit 2 milestones on this weeks long run.
First, I ran my first ever double digit run (10 miles)!!!! Second, I hit the 200 mile mark since I started running! I'm really excited about both milestones!
Heading out!
This weeks long run was ok. It was my first run back since my hip flexor strain. I don't think the injury is completely healed yet, but I had to get some mileage in. I plotted the route to leave from my house and it was almost exactly 10 miles (ended up being a little more). The last 1 1/2 miles were rough...so I ended up walking a bit, but hey, I still completed my first ever 10 mile run! My BIL ran it with me, but I'm a super slow runner, so he kind of took off in the last 2 miles and just waited for me at my house. My legs felt like lead near the end. I think I just need to get used to the mileage. I'm pretty sure that I'm going to be really sore tomorrow!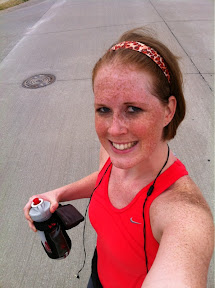 Right as I finished the 10 miles...I look like I'm gonna DIE!
2 weeks from today I'll be running in my very first half marathon. I'm sooo excited. It's surreal!
I think back to September when I decided I was going to become a runner...back when I could not even run a full MINUTE without becoming breathless. Now, to think I'll be running a half marathon? I'm elated with what I've accomplished so far (including losing 27 pounds in the process!), and I can't wait to cross the finish line.
Though it will be the finish line, it's only the beginning of my journey!